If you already watched the video or read the content and decided, scroll to the bottom of the page for the different SEM price plans!
The search engine results pages also have a section for paid advertising which allows advertisers to outperform or appear above the organic listing for a given search term or phrase, depending on what you are biding on. You can either target keywords, re-market to previous visitors, target by demographics and a lot more. It all boils down to your target audience. As a company, iconiceyesgraphics.com also utilizes this form of marketing. The search engine market share in 2020 (webfx.com) are as follows: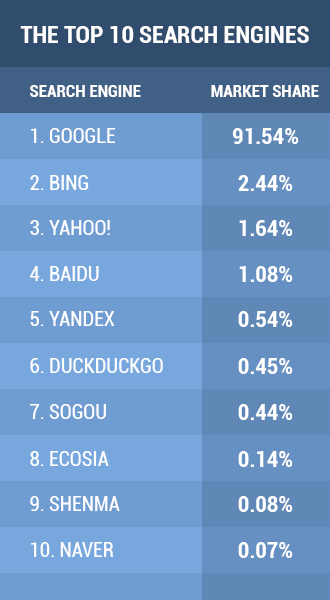 Definition
Search Engine Marketing by definition is a form of internet marketing that involves the promoting of a website using paid advertisements that appear on search engine results pages (SERPs). SEM can incorporate search engine optimization (SEO), which is coding the website to achieve a higher ranking in the SERPs to enhance pay per click (PPC) listings.
Pros/Cons
Here are a few advantages (Pros) and disadvantages (Cons) we would like to contrast for you:
Pros
Traffic is consistent and fast
You can remarket to previous visitors
Increase conversion rate
More data, insights and metrics on money being spent
Huge amount of impressions/traffic to tap into on a weekly basis
Target on a wider scope as well as niche down to a target audience
Cons
Can cost a lot of money depending on the market
Larger learning curve for a beginner or if you are not already savy with paid advertisements
Advanced Search Engine Marketing
There are a few best practices when implemented we classify them as being Advanced SEM. These methods and techniques can benefit your campaign, because when implemented correctly, can lower the Cost Per Click (CPC) you would be charged, increase your visibility in the SERPs and increase your conversion rate. We will only list a few for right now as we would like to keep some within our company:
Create Relevant and clickable titles

This will allow you to get more clicks on your ads resulting in having a high CTR (Click-Through Rate), which will show the Search Engines that your ad is well inviting and favorited by the searcher.

Re-market Previous Visitors

Potential buyers after seeing your ad and website may not always be ready to buy. They are even likely to forget all about where to find your business. This is where remarketing gives you the chance to engage and showcase your ad to the same visitor that will hopefully convert after.

Have A High Quality Score

On a scale from 1-10 your ad is rated by Google Ads based on its quality and relevance for the keywords and PPC ads. Here is Google's article for more info. With a few optimization, you can increase your ad score.
We know we should add more to the list but Iconiceyes Graphic Designer Orlando LLC will have the above practices and a few others, ready to help make your business grow.
Pricing
This is a service that we are ready to offer to you. Having gained a lot of traction and publicity from using Search Engine Marketing advertisements, you can rest assured that we can work towards doing the same for your business. Regardless if you are a small, medium or enterprise level business, we have a price plan that will help grow your business:
Price Plans
| Starter Package | Basic Package | Premium Package |
| --- | --- | --- |
| $800/month | $1200/month | $1500/month |
| 2-4 Campaigns (Smart Campaign, Display, Discover, PPC etc) | 3-7 Campaigns (Smart Campaign, Display, Discover, PPC etc) | 8-10 Campaigns (Smart Campaign, Display, Discover, PPC etc) |
| 3 Unique Ads (split between image and text based ads) per campaign | 4 Unique Ads (split between image and text based ads) per campaign | 5 Unique Ads (split between image and text based ads) per campaign |
| Ad Spend Budget: $1000/30 Days | Ad Spend Budget: $1300/30 Days | Ad Spend Budget: $2000/30 Days |
| 8-10 Headlines or Titles | 11-15 Headlines or Titles | 14-18 Headlines or Titles |
| 6-8 Descriptions (describing business or service offering) | 9-12 Descriptions (describing business or service offering) | 13+ Descriptions (describing business or service offering) |
| Grand Total: $1800 | Grand Total: $2500 | Grand Total: $3500 |
| | | |
Price Plans for Search Engine Marketing